Other Services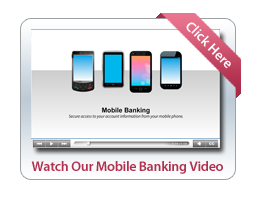 Savings Bonds
Financial institutions will no longer conduct over-the-counter sales of U.S. Savings Bonds starting January 1, 2012. The Bureau of Public Debt has announced that, on that date and beyond, Series EE and I savings bonds will be available in electronic form only through the online TreasuryDirect program at www.treasurydirect.gov.

Savers who currently hold paper savings bonds will be able to continue to redeem them at financial institutions. In addition, paper bonds that have been lost, stolen or destroyed, may be reissued in either paper or electronic form.

For more information about the elimination of paper savings bonds and how to enroll in TreasuryDirect, visit www.treasurydirect.gov.
Online Pre-Qualification
Free Mortgage
Pre-Qualifications.
Mobile Money
Use our Online Demo to Learn more about Mobile Money
Educate Yourself
Simple tips for protecting your Identity.